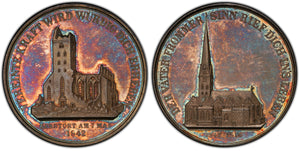 German States, Hamburg. 1842 silver Medal, PCGS SP64. 44mm. Gaed-2080.
On the destruction of the Church of Saint Peter during the Great Fire of Hamburg in May of 1842. Obverse: View of the church before the fire. Reverse: View of the ruins on May 7th, with collapsed tower. Deep, hearty tone.
To make an offer for this piece, or for any inquiries, please contact us via email at info@rexrarities.com.