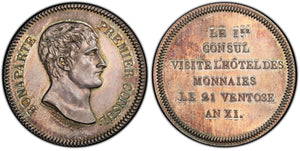 France. First Consul "AN XI" (1803) silver Restrike Essai 5 Francs, PCGS SP64+. Mazard-629c.
By Tioler. Plain edge marked "1ARGENT" with cornucopia privy mark (struck 1880-1901). Bust of Napoleon right as First Consul / Legend. A restriking of this Essai (pattern) type initially produced in commemoration of the First Consul's visit to the Paris mint on March 12th, 1803. Exceptional condition for the issue, with lovely pull-away toning.
To make an offer for this piece, or for any inquiries, please contact us via email at info@rexrarities.com.